CUSTOMIZATION & DIAGNOSTICS
FOR MQB / MQB2020 / MLBEvo
Discounts on subscriptions on Black Friday 2021 up to 45%!
Read More »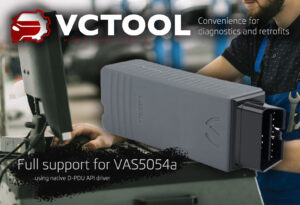 VAS5054
Starting with version 1.10 VCTool starts supporting VAS5054 interfaces via the standard D-PDU API driver without the need to install an additional SAE J2534-1 driver!
Read More »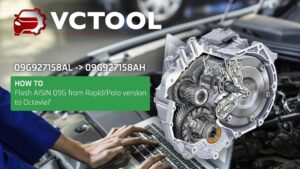 Demonstration of flashing the AISIN 09G gearbox control unit on a Skoda Rapid (VW Polo) 09G927158AL to the version from Skoda Octavia A7 09G927158AH using
Read More »
VCTool is a software for diagnostics, flashing, coding, parameterization and activation of hidden features on VAG vehicles built on the MQB, MQBA0, MQB2020, MQB37w and MLBEvo platforms. No special knowledge or expensive equipment is required to work with the program and activate hidden features. To connect to a car, VCTool supports widespread J2534 PassThrough adapters, such as Tactrix Openport, Chipsoft Lite / Mid, Skanmatik, Abritus, VAS5054a, UCDS, Hella Gutmann, Cardaq, etc., as well as adapters based on ELM and STN microchips: ELM327 USB / BT, ELS27, VGate BT, OBDLink SX / EX / MX + and others. An account is required to work with VCTool. Some of the tools and hidden features are available for free. It is possible both to purchase modules separately, and to work on the basis of subscription plans, which include a certain part of the functionality and activation of all available hidden features. VCTool has a refillable database of parameters. It is the only application for a computer with similar functionality and support for available ELM adapters.